Hello all!
As you might have guessed from the extreme absence of posts lately... as in the past year or so... Dress Up and Tea Parties has retired.
However! I have a new blog! It is
Left Handed Compass
and it will follow me through the very exciting time of studying abroad in Denmark for the next year and perhaps even college adventures beyond!
Just a quick update on how things have been:
I graduated high school with high honors or something.
---
This past year was my first at college.
My dorm
I am double majoring in English and French with an emphasis in linguistics. Fancy, useful shit.
---
I spent winter break working at Massage Envy corporate headquarters as a filing clerk and substitute receptionist (during Christmas). I don't have any pictures but it pretty much looked like this: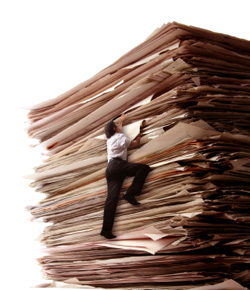 It was probably one of the worst, most soul-sucking activities I've ever done.
---
I spent the past summer working at a YMCA summer camp near Prescott, Arizona called Chauncey Ranch.
It was probably one of the best experiences of my life.
---
And now I am waiting to study abroad at the University of Aalborg in northern Denmark.
My hand decorated bags are literally packed.